Capt Michelle L. Bernard
Operations Flight Commander and Assistant Professor of Aerospace Studies
Russell West
P843-863-7144 / Embernard@csuniv.edu
CREDENTIALS
• 2002 Medical Laboratory Phase I, Sheppard AFB, TX
• 2003 Medical Laboratory Phase II, Scott AFB, IL
• 2006 Airman Leadership School, Patrick AFB, FL
• 2007 USAF Honor Guard Protocol
• 2008 Associate Degree, Medical Laboratory Technician, Community College of the Air Force, Maxwell-Gunter AFB, AL
• 2008 Baccalaureate Degree, Organizational Management, Magna Cum Laude, Warner University, FL
• 2014 Noncommissioned Officer Academy, Lackland AFB, TX
• 2016 Officer Training School, Maxwell AFB, AL, Distinguished Graduate
• 2017 Certified Acquisition Professional, Program Management Level 1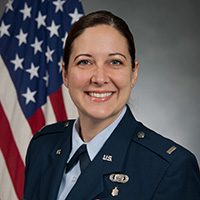 Capt. Michelle Bernard is the Assistant Professor of Aerospace Studies for Detachment 772 at Charleston Southern University in Charleston, South Carolina. She is responsible for recruiting and training highly qualified men and women with the intent of developing them into the next generation of Air Force leaders. In addition, Bernard instructs entry-level curriculum which covers Intro to the U.S. Air Force and Evolution of the U.S. Air Force. Bernard enlisted in the Air Force in 2001. She graduated with a Bachelor of Science Degree in organizational management and earned Magna Cum Laude from Warner University in 2008. She is a 2016 distinguished graduate from the Officer Training School program at Maxwell AFB, Ala.
RECOGNITION & HONORS

• 2003 Senior Airman Below the Zone
• 2004 45th Medical Group Airman of the Year
• 2007 45th Space Wing Honor Guard Noncommissioned Officer of the Year
• 2014 Commandant Award, Noncommissioned Officer Academy
• 2014 959th Medical Group Noncommissioned Officer of the Year
• 2015 Air Force Laboratory Noncommissioned Officer of the Year
• 2015 Air Education and Training Command Lance P. Sijan Award, Noncommissioned Officer
• 2016 Distinguished Graduate, Officer Training School
• 2018 Business Enterprise Directorate, Commissioned Officer of the Year
ASSIGNMENTS

1. April 2003 – Sep 2009, NCOIC Chemistry Laboratory, 45th Medical Group, Patrick AFB, FL
2. December 2008 – June 2009, Security Forces Support, Joint Base Balad, Iraq
3. Sep 2009 – May 2013, NCOIC Transfusion Medicine, 59th Medical Group, Lackland AFB, TX
4. May 2013 – Mar 2016, Superintendent Unit Training Manager, 959th Medical Group, Ft Sam Houston, TX
5. May 2016 – May 2018, Project Manager, Deliberate Crisis Action Planning and Execution Segments, AFLCMC, Gunter, AL
6. May 2018 – Present, Recruiting Officer, Detachment 772, Charleston Southern University, Charleston, S.C.
EFFECTIVE DATES OF PROMOTION

Second Lieutenant - May 20, 2016 First Lieutenant - May 20, 2018 Captain - May 20, 2020