Jerica N. Derr
Assistant Professor, PA Program
Health Science Building
P843-863-7427 / Ejderr@csuniv.edu
CREDENTIALS
DMSc, MPAS, MS, PA-C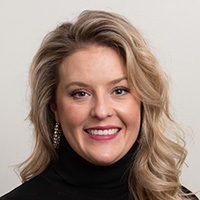 Jerica N. Derr, DMSc, PA-C has served as the Director of Clinical Education since 2018 and is originally from Indianapolis, IN. She received her undergraduate degree at Indiana Wesleyan University in Marion, IN, earning a B.S. in Biology in 2007. She then went on to obtain a Master's in Biology from Purdue University prior to moving to Pittsburgh for PA School. Dr. Derr obtained her Master of Physician Assistant Studies from Chatham University in 2010. After practicing for several years and transitioning to PA education, Dr. Derr obtained her Doctor of Medical Science in PA Education along with a Graduate Certificate in Healthcare Administration & Management from the University of Lynchburg.
Dr. Derr's clinical background is in integrative pain management, urogynecology, and hospital medicine. Her educational focus is on clinical education and experiential learning. She is an active member of the American Academy of Physician Assistants, the Physician Assistant Education Association, and the South Carolina Association of PAs where she serves as the regional representative for the lowcountry.
Dr. Derr has served on mission trips to the Czech Republic, Peru, Panama, Croatia and a medical mission trip to Haiti. She is excited to be a part of a team of exceptional healthcare providers and educators whose focus is on instilling Christian values along premier medical education to the next generation of healthcare providers.
Your Purpose. Our Mission.
I value the integration of faith and learning and the opportunity to invest in the next generation of healthcare providers while instilling in them the truth and love of Jesus Christ.

Jerica N. Derr
PUBLICATIONS & PRESENTATIONS

• Brodhead, Jerica and Stewart-Clark, Skylar (2020): PAEA Forum Makerspace Workshop Presentation: From Classroom to Escape Room: Using Gamification for Dynamic Learning

• Brodhead, Jerica (2021) "From Classroom to Escape Room: Using Gamification for Dynamic Learning," Lynchburg Journal of Medical Science: Vol. 3 : Iss. 1 , Article 8. https://digitalshowcase.lynchburg.edu/dmscjournal/vol3/iss1/8
MEMBERSHIPS & AFFILIATIONS

• American Academy of Physician Assistants, Fellow Member
• Physician Assistant Education Association, Member
• South Carolina Academy of Physician Assistants, Member & Lowcountry Representative