David Dyer
Director of Operations for Spiritual Life

P843-863-7972 / Eddyer@csuniv.edu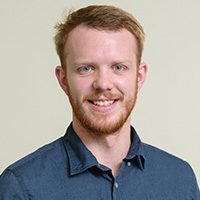 David Dyer, a 2019 CSU graduate, works in the Office of Spiritual Life as the director of operations. With his undergrad in Christian studies and foreign language, he is also the associate pastor over discipleship and missions at Summit Baptist Church. Toward the end of his college career, he felt the Lord directing him to remain at CSU within any capacity available. He feels that CSU is a special place to him not because of the place itself but because the people mean so much more, and he believes that having the opportunity to continue to serve here is a blessing for him and his family. He married in June of 2019, and his wife is a middle school English teacher in Charleston County. Their prayers are to faithfully serve both faculty and students with a means of glorifying God in all that they do. Their hearts rest upon the prayers of serving long-term overseas wherever the Lord directs.
Dyer plans to work at CSU while pursuing his MDiv, continuing to build a small business (Beloved Leather Co.), and remaining in steadfast prayer with his wife about serving overseas.
Your Purpose. Our Mission.
For a while during my college career at CSU, I wanted to work here. When graduation was coming near, I felt the Lord direct me to remain in Charleston and even more so at CSU. Having the opportunity to serve the students and faculty under an amazing, God-fearing administration is such a blessing. My prayer is to remain in awe of the work God has in store for this university.

David Dyer
RECOGNITION & HONORS

Charleston Southern: Biblical Languages Award