Ron Harvell
Director of the Dewey Center for Chaplaincy
Whitfield Center for Christian Leadership
P843-863-7118 / Erharvell@csuniv.edu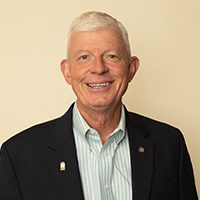 Dr. Ron Harvell, Chaplain Brigadier General, USAF (ret.) is the foundational director of the Charleston Southern University's Dewey Center for Chaplaincy and professor in the College of Christian Studies. The Dewey Center for Chaplaincy's mission is to increase ministry skills through academic and training programs to help equip believers to better serve their families, churches, communities, and organizations. Charleston Southern is one of two universities in the United States that offer a Bachelor of Arts Degree in Chaplaincy Ministry. We offer this program as a major, minor or as electives.
Prior to being the Director of the Dewey Center, Dr. Harvell was the Deputy Chief of Chaplains for the United States Air Force. In this role he was responsible for enabling ministry for the entire Air Force community. Previously he was the Command Chaplain for Air Force Mobility Command, Air Force Global Strike Command, and Air Force Central Command (Middle East). He was deployed to Somalia, South Korea, Qatar, and Iraq. He was awarded three of 3 Legion of Merit Medals.
Ron felt called to ministry when he was 17 years old. After being licensed to the Gospel Ministry by Circle Drive Baptist Church in Colorado Springs, he attended college where he met and married Marsha (1984). In June of 1985, he was ordained by Friendship Baptist Church in Weatherford, Texas.
Following seminary, he pastored Northside Baptist Church in Kermit, Texas for four-and-a-half years. The Lord blessed this congregation to grow from 10 to 300 members, 150 joining by baptism. Since 1986, Ron and Marsha have visited 58 countries, 7 continents, and lived in 17 locations around the world, serving as endorsed missionaries of the North American Mission Board for 34 years in the people group of the U.S. Air Force. With the highlight of serving on Okinawa getting to lead the Protestant program with 1600 in average weekly worship.
Ron has earned a Bachelor of Arts degree from Hardin-Simmons University in Bible and History, a Master of Divinity from Southwestern Baptist Theological Seminary, and a Doctor of Ministry from Southwestern Baptist Theological Seminary and Asia Graduate School of Theology with a focus in Transformational Leadership for the Global City. He also has a Master of Science in National Security Strategy from National War College at the National Defense University and a Master of Arts in Organizational Management from The George Washington University. He attended the Air Force Intern Program, Executive Leadership Development Program, and Capstone Senior Officer's Course.
He is the co-author with Marsha of The Watchman on the Wall: Daily Devotions for Praying God's Word over Those You Love (Volumes 1, 2, 3 and 4) and co-author with Marsha and Wendy K. Walters of 50 Steps with Jesus: Learning to Walk Daily with the Lord (Believer's and Shepherd's Guides).
Marsha and Ron have been married since 1984 and have two grown children, Stephanie (married to Jonathan) and Steven (married to Rachel). Both families serve the Lord in full-time capacities. They have seven grandchildren: Nathan, Adilynn, Kik, Daniel, Kyro, Caleb, and Abigail.