Tonya Houston
Associate Professor of Education
Rivers Library
P843-863-7415 / Ethouston@csuniv.edu
CREDENTIALS
PhD - School Administration (K- 12) with Cognate: Curriculum & Instruction
The University of South Carolina
Educational Specialist – Education Leadership (K -12) - The Citadel
Master of Education - Secondary Administration (7-12) - The Citadel
Master of Arts in Teaching (Biology) - The Citadel
Bachelor of Science - Physical Education - Charleston Southern University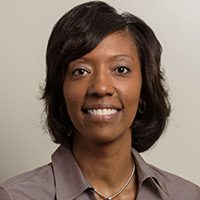 Dr. Tonya Houston has spent over 25 years in middle level and secondary education as a coach, physical education teacher, middle and high school science teacher and administrator. Dr. Houston joined the College of Education faculty at Charleston Southern University in 2016 as Assistant Professor of Education and Coordinator of Middle Level and Secondary Programs. With a long history and commitment to Christian education, she is proud to return to her Alma Mater in support of developing caring, compassionate, and highly qualified future teachers.

Dr. Houston holds a Bachelor's degree in Physical Education, a Master's degrees in Teaching Biology & Broad Sciences, Secondary Administration, and a Ph.D in School Administration [K-12] from the University of South Carolina. In addition to her highly qualified designation in middle level [grades 6-8] and high school [grades 9-12] teacher certification and secondary administration [grades 7-12] certification, Dr. Houston is also a licensed specialist in educational leadership (K-12) for School Superintendency.

Dr. Houston has been married for 27 years and has two children, Caleb and Micah. In her free time, she enjoys exercising, sporting events, cooking, and gardening.
Your Purpose. Our Mission.
Working at CSU allows me to lead and serve students students through sharing my faith and God's love through His teaching. "Care for the flock God has entrusted to you...Watch over it willingly.... not for what you will get out of it, but because you are eager to serve God (1 Peter 5:2)." Teachers are uniquely positioned to share wisdom and hope, compassion, and genuine kindness in our students lives by capturing moments and experiences that allow students to recognize God's love and provision in their lives. Each day I enter my classroom at Charleston Southern, I am positioned to walk out God's Great Commission to "make disciples of all nations." (Matthew 28: 18-20)

Dr. Tonya Houston, PhD
RECOGNITION & HONORS

President of South Carolina Independent Schools Association
HQ - Biology and General Science, Grades 9-12
HQ - Middle School Science, Grades 6-8
Secondary Principalship and Supervision, Grades 7-12
Present Educational Specialist in Leadership: Admin & Supervision Grades, K-12
College Board Authorization - Advanced Placement –Biology
PUBLICATIONS & PRESENTATIONS

Houston, T. (2020). Leading and Teaching Differently. South Carolina Independent Schools Association Head's Institute

Houston, T. (2019). Diversity and Inclusive Practices in the Classroom: A Shift from Cultural Competency to Cultural Responsiveness. The South Carolina Independent School Association Teacher's Conference.

Houston, T. and Winchester, C. (2019) The Role of Self Reflection to Inform Biases Among Pre-Service Teachers. Kappa Delta Pi International Honor Society – 53rd Annual Convocation, Norfolk, Virginia.

Houston, T. and Winchester, C. (2019) The Role of Self Reflection to Inform Biases Among Pre-Service Teachers. South Carolina Association of Teacher Educators Conference (SCATE).

Doctoral Dissertation
Houston, T. M.(2011). The Impact of Single Gender Education In South Carolina Middle Schools With Grades Six Through Eight: A Quantitative Study Comparing Student Performance, Teacher, Student and Parent Perceptions Before and After Implementation of Single Gender Education - University of South Carolina
MEMBERSHIPS & AFFILIATIONS

National Science Teachers Association
South Carolina Association of Middle Level Education
South Carolina Association for Teacher Educators
Kappa Delta Pi International Honor Society
Association for Supervision and Curriculum Development

NAACP - Goose Creek Chapter

International Service Organization
Alpha Kappa Alpha Sorority Inc - Gamma Xi Omega, Graduate Chapter