Shelby Sexton
Senior Enrollment Counselor and Athletic Liaison
Hunter Center
P843-863-7050 / Essexton@csuniv.edu
CREDENTIALS
Bachelor of Arts in Political Science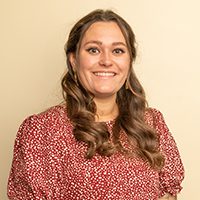 Shelby serves as an Enrollment Counselor for
incoming freshmen at CSU. She graduated from Charleston Southern University in
2019 with her Bachelor's Degree in Political Science and a minor in
Communication. Shelby has lived in Charleston her entire life and has been an
active member of local churches and the community. She is looking forward to
meeting all incoming students who want to lean more about CSU and is excited to
bring future Bucs to campus.
Students, sign up for a virtual meeting with Shelby!
Your Purpose. Our Mission.
As Christians we have our mission set before us in scripture. As an enrollment counselor, it is my mission to help you plan for your future. Your purpose is a blend of finding yourself in Christ and knowing how to share that with the world. Our mission at CSU is to prepare you to go into the world and share that purpose while excelling in your career. Your purpose, our mission is a promise to students, to help them find what the Lord is calling them to be and prepare them to be great leaders and believers.

Shelby Sexton
RECOGNITION & HONORS

Ella Pierce Turner Award
PUBLICATIONS & PRESENTATIONS

Davis Continues to Thrive After Three Decades at CSU - https://csubuccaneerbeacon.home.blog/2019/03/11/davis-continues-to-thrive-after-three-decades-at-csu/
MEMBERSHIPS & AFFILIATIONS

Alpha Delta Pi - Theta Chi