Brian J. Smith
Athletic Training Program Director and Associate Professor
Athletic Training Program Lab
P843-863-7399 / Ebjsmith@csuniv.edu
CREDENTIALS
DHSc
SCAT
ATC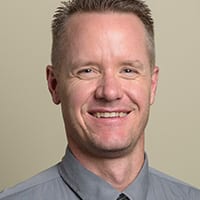 Dr. Brian Smith joined CSU in 2011 and is currently the Director of the Athletic Training Program, overseeing all aspects of the program. Smith has been a certified athletic trainer since 2001 and is currently certified in the State of South Carolina. Prior to CSU, Smith worked as a clinical athletic trainer for 11 years in the college and high school settings, as well as completing a fellowship with the United States Olympic Committee. During his doctoral degree he explored the leadership styles of program directors and CAATE continuing accreditation outcomes. Smith has a passion for the athletic training profession and believes in giving back to the profession that represents him. He is a member of the NATA, MAATA, and NATA. Smith and his wife, Kathy, have been married for 16 years and have two sons, Alexander and Zackary. In his spare time, Smith enjoys time with family, exercising, enjoying the outdoors or watching sports. He is an active member of Seacoast Church and serves on the Emergency Response Team.

Education DHSc, Health Sciences, University of St. Augustine for Health Sciences, St. Augustine, Fla.; MS, Kinesiology (Athletic Training), Indiana University, Bloomington, Ind.; BS, Exercise Physiology, California State University, Chico, Chico, Calif.
Your Purpose. Our Mission.
I believe that Your purpose is God's purpose and Our Mission is God's mission. I truly believe that every student is here because it is in God's plan for every student to be influenced by me/us (my/our mission) or for them to influence me/us (their purpose) as the student pursues their professional goals.

Dr. Brian Smith, DHSc
MEMBERSHIPS & AFFILIATIONS

National Athletic Trainers' Association
Mid-Atlantic Athletic Trainers' Association
South Carolina Athletic Trainers' Association