Riley Vargas
Regional Enrollment Counselor
Hunter Center
P843-863-7050 / Ervargas@csuniv.edu
CREDENTIALS
BA in Christian Studies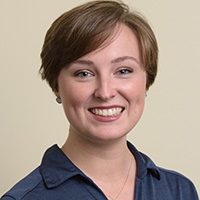 She graduated from Charleston Southern in 2015 with a Bachelor of Arts in Christian studies and a minor in history. She is from Easley, South Carolina, and she joined the Enrollment Services team in 2017 as the Campus Visit Coordinator. She discovered CSU at Student Leadership University, and the biggest draw for her was the campus's proximity to the beach. Once she stepped foot on campus, the smaller classes, exceptional professors, and the fact that the other students took time to genuinely know and love her became the reasons that she felt joy and peace about coming to CSU.
Students, sign up for a virtual meeting with Riley here!
Your Purpose. Our Mission.
Students are seen and known as individuals and not merely as numbers. Staff members strive to help each student find their purpose and get ready to begin to pursue it at CSU as a Buccaneer. Every day, Enrollment Counselors try to answer questions for students that help focus their area of interest and prepare each student for the next big adventure and the start of the rest of their lives!