Christopher "C.J." Will
Affiliate Professor of Aeronautics

P / Ecwill@csuniv.edu
CREDENTIALS
EDUCATION:
1993 Bachelor of Arts, Cum Laude – Political Science, Claremont-McKenna College, Calif.
1996 Juris Doctorate – Dedman School of Law, Southern Methodist University, Texas
1998 Air Force Judge Advocate General School, Maxwell AFB Ala.
2002 Flight Safety Officer School, Kirtland AFB N.M.
2003 Squadron Officer School, Maxwell AFB Ala.
2006 United States Department of Justice Trial Advocacy Course, Columbia, S.C.
2008 Air Command and Staff College, Maxwell AFB, Ala.
2012 Air War College, Maxwell AFB, Ala.
2015 Legislative Affairs Certification, Government Affairs Institute, Georgetown, Washington, D.C.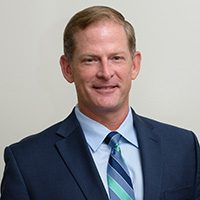 Colonel Christopher "C.J." Will, USAF, Retired, is the chair of the Department of Aeronautics and is responsible for the accreditation, creation and administration of an advanced aeronautics curriculum, flight operations, community outreach, and developing partnerships with area colleges, local, county, state, and national government and businesses. He is nationally recognized as a leader in pilot recruiting, aviation outreach, diversity, and training and has served as a professor of aviation, aviation attorney, and flight instructor for over two decades. He is a recently retired Air Force Colonel and combat-experienced Command Pilot, and has earned FAA Airline Transport Pilot, Certified Flight Instructor/Instrument, Multi-Engine Instructor and Unmanned Aerial System operator ratings. He and his wife, Rachael, recently celebrated their 30th wedding anniversary, and have three children.
Will founded the Lowcountry Aviation Association, a nonprofit (501c3) educational charity located in Summerville, South Carolina, dedicated to educating, empowering, and inspiring diverse Lowcountry high school and college students interested in aviation careers. Since 2018, the LCAA has provided over $20,000 in flight training scholarships to local high school students, performed community outreach, sponsored aviation day and summer camps, and provided flight training to over 200 Lowcountry youth.
He most recently served as Commander, 765th Detachment, Air Force Reserve Officer Training Corps, located at The Citadel in Charleston, S.C., where he was responsible for the supervision and training of the second-largest cadet corps in the Air Force, with over 450 cadets. Prior to his assignment as Commander of the 765th Detachment, Will served as the Air National Guard Liaison to the Deputy Chief of Staff for Operations, Headquarters Air Force, where he led several efforts on behalf of the Chief of Staff to resolve the Air Force pilot shortage. He practiced aviation law as an attorney with the Department of Justice, and has taught aviation business, safety, law, and ethics courses with Embry-Riddle Aeronautical University since 2001.
Will graduated from Claremont McKenna College cum laude and was commissioned a 2nd Lieutenant in the U.S. Air Force in 1993, and graduated from the Dedman School of Law at Southern Methodist University in 1996. He served as Judge Advocate until 1998 before attending flight training at Columbus Air Force Base, where he earned Distinguished Graduate, Command Trophy and Military Trophy honors.
He has flown combat missions in Operation Southern Watch, Operation Iraqi Freedom and Operation Enduring Freedom. He is a Command Pilot and Instructor with 52 combat missions and over 2,000 total flight hours in the F-16C/D, MQ-1B, and AT-38C.