Andrew Blauch
Professor and Chair of Engineering
Science and Engineering Building
P843-863-7128 / Eablauch@csuniv.edu
CREDENTIALS
PhD in Electrical Engineering from Pennsylvania State University (2000)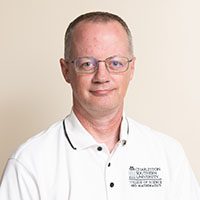 Dr. Andrew Blauch received a B.S. degree in Electrical Engineering from Messiah College, a M.S. in Electrical and Computer Engineering from Carnegie Mellon University, and a Ph.D. in Electrical Engineering from the Pennsylvania State University. He worked in industry for several years as a design engineer at Aerotech, Inc. in Pittsburgh. During that time, he developed software and hardware for multi-axis motion control systems. His first faculty position was in the Electrical Engineering department at Grand Valley State University, Michigan.
He is currently the Chair of Engineering at Charleston Southern University. He is involved in several professional societies including ASEE (American Society for Engineering Education), IEEE (Institute for Electrical and Electronics Engineers), and CES (Christian Engineering Society). His areas of interest include science and faith integration, K-12 STEM outreach, robotics, and spending time with his family. Andrew and his wife, Deborah, have been married for over 30 years. They have six children and three grandchildren.
Your Purpose. Our Mission.
Integrating Faith and Learning is what brought me to CSU. We cannot separate our faith from any aspect of our lives. If our faith is real, then it must be a part of all we do and in harmony with all that is true. "As the heavens declare the glory of God", so should all that we teach declare the wonderful works of God. That is what we do here at Charleston Southern University.

Dr. Andrew Blauch
MEMBERSHIPS & AFFILIATIONS

ASEE (American Society for Engineering Education)
IEEE (Institute for Electrical and Electronics Engineers)
CES (Christian Engineering Society)