Andrew Blauch
Professor and Chair of Engineering

P843-863-7128 / Eablauch@csuniv.edu
CREDENTIALS
Electrical Engineering (PhD)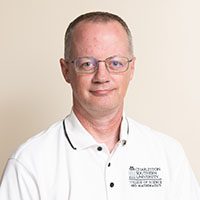 Dr. Andrew Blauch is Director of Engineering and Applied Math. He received a Bachelor of Science in electrical engineering from Messiah College, a Master of Science in electrical and computer engineering from Carnegie Mellon University, and a Doctor of Philosophy in electrical engineering from the Pennsylvania State University. He worked in industry for several years as a design engineer at Aerotech, Inc. in Pittsburgh. During that time, he developed software and hardware for multi-axis motion control systems. His first faculty position was in the Electrical Engineering department at Grand Valley State University, Michigan. He is involved in several professional societies including ASEE (American Society for Engineering Education), IEEE (Institute for Electrical and Electronics Engineers), and CES (Christian Engineering Society).
Since arriving at CSU, Dr. Blauch has had the opportunity to give talks on science and faith integration. His areas of interest include K-12 STEM outreach, robotics, and spending time with his family. Blauch and his wife, Deborah, have been married for almost 30 years. They have six children and one grandson.
Your Purpose. Our Mission.
"I am sorry to bother you" is a common statement heard from students. My response is always "Please bother me more." Anytime and anywhere is a good time and place to ask a question. Why not stop by and start asking today?

Dr. Andrew Blauch
MEMBERSHIPS & AFFILIATIONS

ASEE (American Society for Engineering Education)
IEEE (Institute for Electrical and Electronics Engineers)
CES (Christian Engineering Society)