Kyler Campbell
Assistant Professor of English and Foundational Studies
Norris Hall
P843- 863-7539 / Ekcampbell@csuniv.edu
CREDENTIALS
BA in interdisciplinary studies at North Greenville University
MFA in fiction at Converse College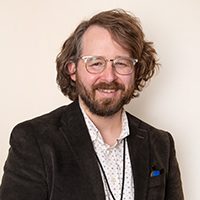 Kyler earned his Bachelor of Arts in interdisciplinary studies from North Greenville University and his MFA in fiction from Converse College. He has published short fiction as well as a recent critical analysis of John Steinbeck's novella The Pearl. Kyler also serves as the director of worship for Riverbluff Church. He and his wife Katie have two high-energy daughters and an 80 pound lap dog. He loves to discuss American literature, comic books, creative writing, and Penguins hockey.
Your Purpose. Our Mission.
I work at CSU because my faith is just as important to me as any academic pursuits. CSU gives me the opportunity to interact with students academically as well as spiritually. I want to help students discover who God has made them to be and how they can better the world they live in.

Kyler Campbell
PUBLICATIONS & PRESENTATIONS

"'So That One Beautified The Other': An Ecocritical Perspective on Character and Place in John Steinbeck's The Pearl, August 2019.

"Smoke on the Wind," Sheepshead Review, Winter 2015.

"Tongues of Fire," Paradise Review, Summer 2014.

"Caretta Caretta," Driftwood Press, Summer 2014.

"Gator Bait," Cutthroat: A Journal of the Arts, October 2013.
Nominated for the 2012 Iron Horse Literary Review Discovered Voices Prize.

"Cutting the Trap Lines" Hawaii Pacific Review, September 2013.

"The Voodoo Man at the Mainline Café," Gadfly Online, September 2012.

The Lights Over St. Landry: A Collection of Stories, Creative thesis, Converse College library.

"Hamlin" and "The Covered Bridge," The Mountain Laurel, 2009.
MEMBERSHIPS & AFFILIATIONS

AWP Member
NACTE Member