Capt Jason Faulk
Recruiting Officer and Assistant Professor of Aerospace Studies
Russell West
P843-863-7408 / Ejfaulk@csuniv.edu
CREDENTIALS
2015 Bachelor of Science in management, Excelsior College, Albany, NY
2017 Acquisitions (Program Management) Officer Course, Wright Patterson AFB, OH
2018 Master of Education, Mercer University, Macon, GA
2021 Squadron Officer School, Maxwell AFB, AL (In Residence)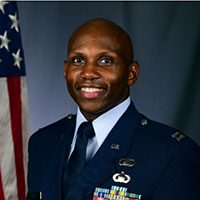 Captain Jason Faulk is the Recruiting Officer for the of Air Force Reserve Officer Training Corps Detachment 772 in support of Charleston Southern University, headquartered at Air Education and Training Command, Maxwell AFB, AL. He is responsible for the training and mentoring of 47 officer candidates to graduate and enter the Air or Space Force as 2nd Lieutenants.
Captain Faulk is a native of Suffolk, Virginia, earning his commission through the Officer Training School at Maxwell Air Force Base, Alabama. Captain Faulk has held positions in Air Logistic Complex (WR-ALC), various aircraft program offices, and joint agency during his last assignment before assuming current Faculty position.
Your Purpose. Our Mission.
Having the opportunity to teach Future Air & Space Force leaders in a positive and academically stimulating environment is a privilege! I am particularly thankful to serve at a Division I university that unapologetically promotes faith-based learning.

Capt Jason Faulk
RECOGNITION & HONORS

MAJOR AWARDS AND DECORATIONS:
• Joint Service Commendation Medal
• Air Force Commendation Medal
• Joint Service Achievement Medal
• National Defense Service Medal
• Global War on Terrorism Service Medal
• Global War on Terrorism Medal
ASSIGNMENTS

ASSIGNMENTS: • Jan 2017–Mar 2017, Student, Officer Training School (OTS), Maxwell AFB, Alabama • Mar 2017–Jun 2019, Depot Activation Project Manager, C-130 Sustainment Branch, Robins AFB, Georgia • Jun 2019–Jun 2021, Software Architect Program Manager, F-35 Lightning II Joint Program Office (JPO), Arlington, Virginia • Jun 2021–Present, (Faculty) Recruiting Officer, AFROTC Detachment 772, Charleston Southern University
FLIGHT INFORMATION

EFFECTIVE DATES OF PROMOTION: • Second Lieutenant - Mar 2017 • First Lieutenant - Mar 2019 • Captain - Mar 2021