Alicia Fowler
Program Development Manager, CAPS
Hunter Center
P843-863-7409 / Eafowler@csuniv.edu
CREDENTIALS
BA in music therapy, psychology minor
MS in management
MS in human resource management - 2022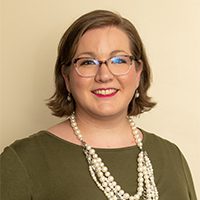 Alicia Fowler graduated from CSU for the first time in 2014 with a Bachelor of Arts in music therapy (psychology minor) and a second time in 2020 with a Master of Science in management. She will graduate for a third time in 2022 with a Master of Science in human resource management.
After spending some time using her music therapy degree working with residents in a local nursing home and rehabilitation center both before and after graduation, Alicia felt the Lord calling her back to her alma mater. She has been working at CSU since 2015, where she started out in the admissions office. After a few years in admissions, she transitioned to the registrar's office and now works in the College of Adult and Professional Studies as the program development manager.
Alicia and her husband, Richie (also a CSU alum), enjoy spending time together, hanging out with family and friends, traveling, antiquing, and playing with their Australian shepherd mix. They have recently taken up golf and hope to be good at it!
Your Purpose. Our Mission.
"Your Purpose. Our Mission" means that at CSU, you will be supported. We want to help students figure out their calling from the Lord and help them to pursue that. Whether through prayer, active participation, or both, our faculty and staff will push students to their God-given calling to fulfill their purpose. Our mission is to help students, and our corporate mission with our students is to use all of our purposes, as Christians, to move forward in advancing the Kingdom of God.
MEMBERSHIPS & AFFILIATIONS

Society for Human Resource Management (SHRM) member