Timothy Grant
Associate Dean of Student Engagement & Chief Diversity Officer
Student Center
P843-863-7605 / Etgrant@csuniv.edu
CREDENTIALS
Bachelor of Science in Business Administration/Management
Bachelor of Science in Business/ General Business
Master of Arts in Theological Studies
Master of Divinity in Leadership
Graduate Certificate in Inclusive and Ethical Leadership
Graduate Certificate in Diversity, Equity and Inclusion in the Workplace
Ministry of Ordination (COOLJC)
SC Notary Public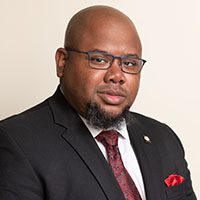 Timothy Nathaniel Grant is a native of Charleston, South Carolina and is the last child out of nine children born to Bishop Carl M. and Mrs. Jacqueline L. Grant. He is married to his college sweetheart Kamilah Holloway Grant and are blessed with two beautiful daughters Lilah Brielle and Iva Noelle. Timothy received his education in the public schools of Charleston and Dorchester counties, graduating in 2001 from West Ashley High School. Seeking to further his education he enrolled in Trident Technical College and later transferred to Limestone College where he graduated in 2008 with a Dual Bachelors' of Science in Business. Grant later furthered his education at Liberty University graduating in 2014 with a Master of Arts in Theological Studies and in 2018 with a Master of Divinity in Leadership.
Grant serves as the Associate Dean for Students Engagement and the Chief Diversity Officer for Charleston Southern University. Since joining Charleston Southern University, Grant has served in several positions such as Night Shift Security Supervisor, Interim Director of Security, Deputy Director of Security, and Assistant Dean for Residence Life. In his current role Grant oversees the office of Students Activities, over 50 student clubs and organizations, the CSU One Accord Gospel Choir and Praise Dancers, all diversity efforts for the university and sits on the President's Cabinet. Grant also serves as a mentor to many CSU students and throughout the tri-county area. Through his leadership at Charleston Southern University a Diversity Council has been established, a Diversity Webpage has been added to the CSU website, a CSU Women's History luncheon has been established, various forums are held throughout the academic year to unite the student and he also provide guest lecturers in the classroom. Grant also is a member of the CSU BUC Club which provides scholarship for Athletes and is a member of CSU Board of Visitors which provides scholarship for all students.
Your Purpose. Our Mission.
Working at CSU gives me the opportunity to further the purpose and the calling that Christ has upon my life. Helping and being able to serve our faculty, staff and students is part of fulfilling the will of Christ for my life.

Timothy Grant
RECOGNITION & HONORS

MLK Humanitarian Award - Black History Intercollegiate Consortium, January 16, 2018
Dr. Martin Luther King Jr. Dream Keepers Award - R&R Youth Group, Feb. 3, 2018
PUBLICATIONS & PRESENTATIONS

"Deal with Your Issues" Charleston Southern University Chapel Sermon, North Charleston, SC February 2022
"Don't Settle There" Charleston Southern University Chapel Sermon, North Charleston, SC, September 2020
"The Power is in YOU, ADVANCE the DREAM" YWCA (Young Women's Christian Association) Greater Charleston, MLK Ecumenical Services Keynote Speaker, Charleston, SC
January 2020.
"Who's in Your Circle?" Charleston Southern University Chapel Sermon, North Charleston, SC, April 2019
"Brothers from Different Mothers." Port Side Baptist Church Panel Speaker, North Charleston,
SC, July 2018
"Jesus Cares." Charleston Southern University Chapel Sermon, North Charleston, SC, April 2017
"Don't Lose Your Mind." YWCA (Young Women's Christian Association) Greater Charleston,
MLK Ecumenical Services Keynote Speaker, Charleston, SC, January 2017
"God is Still Able." YWCA (Young Women's Christian Association) Greater Charleston, MLK
Ecumenical Services Keynote Speaker, Charleston, SC, January 2011
MEMBERSHIPS & AFFILIATIONS

President, Black History Intercollegiate Consortium, August 2017-January 2022 (President Emeritus)
Member, National Association of Diversity Officers in Higher Education, March 2017-Present
Member, Interdenominational Ministers' Alliance, September 2003-Present
Member, Association of Christians in Student Development, May 2017- Present
Honorary Commander, Joint Base Charleston, April 2019-June 2022
Member, Faith Based Advisory Council for International African American Museum, March 2021-Present
Mentor, The Bridge, Charleston Southern University March 2021-Present
Member, Chief Diversity Officers Council, Charleston Metro Chamber of Commerce, July 2020-Present