Edward Gravely
Professor of Christian Studies
Whitfield Center for Christian Leadership
P843-863-7384 / Eegravely@csuniv.edu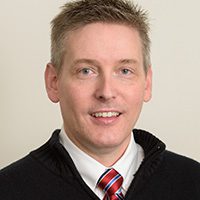 Ed Gravely serves as Professor of Christian Studies and teaches Greek and New Testament courses. He holds a PhD in Biblical Studies with an emphasis in textual criticism from Southeastern Baptist Theological Seminary. He has been at CSU since 2016. Gravely married his wife, Angela, in 1995, and they have two children, Claire and William.
Your Purpose. Our Mission.
I am most passionate about my students being able to read the New Testament in its original language, Koine Greek. Every student at CSU can take Greek to meet their foreign language requirement, and we offer ongoing opportunities for tutoring, advanced study, and summer practice to all our Greek students. It is a real joy to watch the Scriptures come alive to my students as they begin to become proficient in reading and translating God's Word.

Dr. Ed Gravely
PUBLICATIONS & PRESENTATIONS

"Gentile Inclusion: Toward Discerning a Citation Strategy in Paul's Use of the Old Testament in Ephesians." Presented at the 2019 regional meeting of the Evangelical Theological Society, North Greenville University, South Carolina, March 2019.

"The Age of the Distigmai and other Marginalia in the Supplement of Codes Vaticanus." Presented at the 2018 regional meeting of the Evangelical Theological Society, Charleston, South Carolina, March 2018.

"Matthew" and "John" study notes in The Worldview Study Bible, edited by David Dockery. B&H Publishing (Nashville), 2018.

"The Semantic Range of Proago in 2 John: Antichrists and the Language of Mission in the Johanine Epistles." Presented at the 2017 regional meeting of the Evangelical Theological Society, Louisville, Kentucky, March 2017.

"The Relationship of the Vaticanus Umlauts to Family 1" in Digging for the Truth: Collected Essays Regarding the Byzantine Text of the Greek New Testament―A Festschrift in Honor of Maurice A. Robinson. Focus your Mission KG (Norden, Germany), 2015.
MEMBERSHIPS & AFFILIATIONS

Evangelical Theological Society