Jenna Johnson
Executive Director of Marketing and Communication
Hunter Center
P843-863-7606 / Ejdjohnson@csuniv.edu
CREDENTIALS
BA, political science/journalism, Clemson University, 2009
MBA, Charleston Southern University, 2021
Certificate in organizational leadership, NeighborWorks America, 2016
Certified Consumer Credit Counselor, National Foundation for Credit Counseling, 2013-2016
Licensed Credit Counselor, SC Dept. of Consumer Affairs, 2014-2016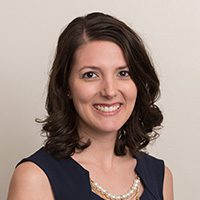 Jenna Johnson joined the Charleston Southern University Marketing and Communication team in 2017 and oversees strategic marketing initiatives and serves as the executive director of marketing and communication and chief communication officer for the university. A Clemson University graduate (BA in Political Science) and a CSU Buc (MBA), Johnson's career began in media relations for political camps and continued on in both the private and nonprofit sector. She has unique perspective and experience in brand management, marketing strategy, grant writing, and public relations.
Johnson co-founded the first Young Nonprofit Professionals Network chapter in South Carolina in 2015 and was chosen as one of the 20 to Know in North Charleston by the Post & Courier in 2016. In 2019, Jenna was honored as one of the Charleston Regional Business Journal's Forty Under 40. Her latest honor was being selected as one of the Best & Brightest 35 and Under by the Charleston Business Magazine in 2021.
Johnson's primary areas of interest are in crisis communication, organizational leadership, and nonprofit management. Outside of work, she spends a great deal of time volunteering at her church, supporting her favorite charities, coaching little league soccer and tee ball, and connecting with other notable causes in the community. She resides in Hanahan with her husband, Josh, and their two young children.
Your Purpose. Our Mission.
My life is a mist in the history of humankind. God didn't call me to waste my time; He called me to live my life with purpose. The fact that I get to work at a place that believes that in its very core is extra special. It is our goal as a campus to see each student FIND and LIVE out their purpose.

Jenna Johnson
RECOGNITION & HONORS

20 to Know in North Charleston, North Charleston Magazine (2016)
Forty Under 40, Charleston Regional Business Journal (2019)
Best & Brightest 35 and Under, Charleston Business Magazine (2021)
MEMBERSHIPS & AFFILIATIONS

4word, member (2020-present)
Young Nonprofit Professionals Network, co-founder/nominating chair (2015-present)
Crowfield Baptist Church Adult Choir & Praise Team, alto (2014-present)
Tri-County Domestic Violence Coordinating Council, member (2012-2016)