Gary Metts
Assistant Dean of College of Humanities and Social Sciences, Director of the Criminal Justice Graduate Program
Whitfield Center for Christian Leadership
P843-863-7330 / Egmetts@csuniv.edu
CREDENTIALS
Bachelor degree in Criminal Justice from St. Leo University
Master's degree in Public Administration from Troy University
Doctorate in Business Administration with a specialization in Criminal Justice from Northcentral University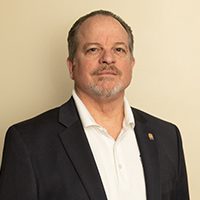 Dr. Gary Metts was hired as an Assistant Professor in the Criminal Justice Department in 2013. He serves as the Assistant Dean of Humanities and Social Sciences. Metts is a retired Lt. Colonel of the Sumter County Sheriff's Office, South Carolina. He has been a police officer for 30 years and is well known to many law enforcement agencies throughout South Carolina.
Metts has also served in the United States Air Force as narcotic/bomb K-9 Police Officer from 1984 to 1991. During this time, he augmented the U.S. Secret Service for four years in protection of the President of the United States on an Advance Team for President Reagan and President Bush.
Metts became a member of the Sumter County Sheriff's Office in 1991 and has served in many different positions from patrol officer, DARE program, to undercover sale to minors. He worked his way through the ranks starting as a Deputy, and in 2000, he was promoted to Captain of Administration overseeing day-to-day operations and was later promoted to Major. In 2011, he was promoted to the rank of Lt. Colonel overseeing the sheriff's office budget, purchasing, legal issues, employment, grants, department policy, technology, sex offender program, and public concerns. He has won numerous local, state and national awards during his time in law enforcement. In 2013, Metts retired from law enforcement to pursue his goal of becoming a full-time professor.
Metts earned his Bachelor's degree in criminal justice from St. Leo University, a Master's degree in public administration from Troy University and his Doctor of Business Administration with a specialization in criminal justice from Northcentral University. Metts served as an adjunct professor for criminal justice at the University of South Carolina and Saint Leo University. Metts was selected to attend and graduated from the National FBI Academy in 2000. Less than 1% of all law enforcement nationwide are selected to attend this most prestigious training.
Your Purpose. Our Mission.
Nothing excites me more than seeing the young men and women who have graduated from the CSU Criminal Justice Program move on to take on a job in the field. I spend a lot of time in my office helping them prepare for the real world of criminal justice. I never tell them what area of the field they should select, but I love helping guide them through the decision process and seeing the results later.

Dr. Gary Metts
MEMBERSHIPS & AFFILIATIONS

Member of the National FBI Association (2000 to Present)
Member of the South Carolina FBI Association (2000 to Present)
National Criminal Justice Honor Society Alpa Phi Sigma (2012 to Present)
Member of the South Carolina Law Enforcement Association (1991 to Present)
Member of the South Carolina Sheriff's Association (1991 to Present)