David Palmer
Dean of the Hans A. Nielsen College of Business
Jones Hall
P843-863-7930 / Edpalmer@csuniv.edu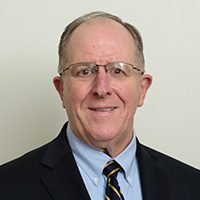 Dr. David W. Palmer serves as Dean and Professor of the Hans A. Nielsen College of Business at CSU. Palmer holds a Bachelor of Science, with a concentration in computer science, from Samford University, an Executive Master of Business Administration from the University of Alabama, and a Doctor of Philosophy in marketing from the University of Alabama. He joined the CSU faculty as associate professor and director of graduate programs in 2016.
Before joining the Charleston Southern faculty, Palmer served as associate professor of management and marketing at Jacksonville State University (Alabama). While on faculty at Jacksonville State, he was recognized multiple times for excellence in teaching, research, and service at both the university and college levels. Prior to joining academia, Palmer spent most of his business career working in the information technology side of the life and health insurance industry as a programmer, analyst and executive. While in the insurance industry, he earned the designation of Fellow, Life Management Institute. He is also an alumnus Leadership Tuscaloosa (Alabama).
Palmer loves teaching marketing and being part of students' lives. He feels his biggest opportunity as dean is to facilitate the growth of students and faculty, providing them the opportunity to grow into and expand their careers. During his tenure as dean the college has received a naming gift from the Nielsen Family, an endowment for the Breland/Adams Chair in Business, and seen the faculty support the university with 100% giving. The college has also supported study abroad, business-as-mission travel, and international travel to improve students' awareness of the international aspects of business.
Palmer is active in research having published or presented many peer-reviewed journal articles, conference proceedings, and presentations. He has published in the Journal of Business and Industrial Marketing, Academy of Health Care Management Journal, and others. He has presented at the conferences such as the IACBE Annual Meeting, Christian Business Faculty Association, Society for Marketing Advances, Southern Finance Association, and others. He has taught principles of marketing, marketing management, international business, international marketing, new product, supply chain management, and business strategy.
Palmer and his wife, Betty, both work at Charleston Southern. They have one daughter and live in North Charleston. The Palmers are members of Riverbluff Church, an SBC congregation.