Maxwell Rollins
Director of Graduate Programs and the Hans A. Nielsen College of Business
Jones Hall
P843-863-7956 / Emrollins@csuniv.edu
CREDENTIALS
Doctor of Business Administration (DBA)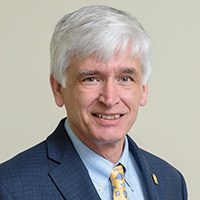 Dr. Maxwell Rollins serves as a Professor in the Hans A. Nielsen College of Business and as Director of the Graduate Programs at Charleston Southern University. He holds a Bachelor of Science with a major in mathematics and a concentration in economics from The College of Charleston, a Master of Arts in Education with a concentration in mathematics from The Citadel, a Master of Business Administration from Charleston Southern University, and a Doctor of Business Administration in leadership from Liberty University.

Dr. Rollins joined the CSU faculty as a visiting professor in 1993 in the College of Business. In 1994, he moved to the Mathematics Department and served for 13 years as an Instructor and Assistant Professor teaching statistics, algebra, business calculus, history of mathematics, and mathematical structures. He transitioned back to the College of Business in 2007 to teach undergraduate finance, business and economics statistics, management, microeconomics and macroeconomics, business communications, introduction to business, small business management, business plan development, and leadership. Since earning his DBA in 2017, he now also teaches graduate leadership and ethics courses.

Dr. Rollins has received the CSU Excellence in Teaching and Professor of the Year awards. He has also been honored twice with the Faculty Member of the Year award from the College of Business. In 1999, he was awarded the Governor's Distinguished Professor Award. He is also the faculty sponsor for two honor societies, Alpha Chi and Sigma Beta Delta. Rollins is also an entrepreneur and small business owner providing entertainment primarily for weddings and receptions. For 40 years he has operated a mobile disc jockey service. Through the years, his company has employed several teams of disc jockeys, including college students, teaching them lifelong skills such as effective communication, organizational techniques, and other essential customer service skills. Rollins wrote for the industry magazine Mobile Beat for 27 years and sold a book to other disc jockeys on what to play at events for 25 years. He was also a radio disc jockey in high school and on several radio stations in the Charleston area prior to beginning his teaching career. His passion for entrepreneurship and helping others by mentoring them led him to conduct his doctoral research on the views and attitudes of women entrepreneurs in establishing a mentoring relationship.

On top of it all, Dr. Rollins served six years in the United States Navy as a nuclear trained machinist mate. His last command was aboard the submarine, John C. Calhoun SSBN630, stationed in Charleston. His primary areas of research are in leadership, entrepreneurship, and pedagogy. Rollins and his wife, Donna (a CSU graduate), have two grown children, Rebecca (also a CSU graduate) and Robert. Dr. Rollins and his wife reside in Summerville and are active members of Summerville Baptist Church, where he serves as an adult Sunday School teacher.
Your Purpose. Our Mission.
I am committed to student success- from the time I receive their application until I call their name as they walk across the stage during graduation.


Dr. Maxwell Rollins, DBA
RECOGNITION & HONORS

Excellence in Teaching Award
Professor of the Year
Faculty Member of the Year (2)