Heather L. Chadwick
Associate Professor of Business Specialty of Finance and Economics
Jones Hall
P843-863-7487 / Ehchadwick@csuniv.edu
CREDENTIALS
Doctor of Philosophy
Master of Arts
Bachelor of Business Administration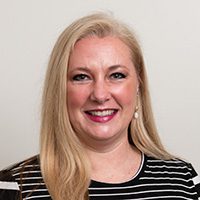 Dr. Heather Chadwick, an Associate Professor of Business with a specialty in Finance and Economics, is originally from Richmond, Kentucky. She has experience working in higher education, the corporate world setting, and working for the U.S. government.
Some of her professional experiences include working at the United States Military Academy at West Point, New York, in the International Intellectual Development Division, as the Study Abroad Program Manager for three years. In addition, Chadwick was an Instructor at West Point, and also the Youth Sports-Tennis Director. She worked for the Boeing Company in Anaheim, California, for two years in the Finance Department for Integrated Defense Systems. Chadwick's responsibilities consisted of being the Southern California Estimating System Compliance and Training Focal. She worked as a financial advisor for Waddell and Reed in Lawton, Oklahoma. She was a contract specialist, and accounting technician for the Department of Defense in Fort Sill, Oklahoma. She has taught at the University of Maryland at University College-Europe, Cameron University, School of Business in Lawton, Oklahoma, United States Military Academy, Athens Technical College in Athens, Georgia, and Creighton University.
Chadwick's education includes a Doctor in education and human resource studies from Colorado State University. She specialized in higher education, college & university leadership. Her Master of Arts is from the University of Oklahoma in applied economics. She received her Bachelor of Business Administration, with a major in finance and minor in economics from Eastern Kentucky University. Chadwick attended the United States Military Academy for the first two years of college. She played Division I Women's tennis for Army West Point, and then transferred to Eastern Kentucky University to play tennis, and complete her NCAA eligibility.
Your Purpose. Our Mission.
CSU is an uplifting and inspiring place to work because of our influence with the future leaders of America.

Dr. Heather Chadwick
MEMBERSHIPS & AFFILIATIONS

Kingdom Advisors, Member
Christian Business Faculty Association, Member
Sigma Beta Delta, Member
American Educational Research Association, Member
Golden Key International Honor Society, Member