David Cross
Professor of Spanish
Student Center
P843-863-7135 / Edcross@csuniv.edu
CREDENTIALS
Ph.D. in Comparative Literature, University of South Carolina
MA in Arabic, Middlebury College
MAT in Spanish, University of South Carolina
BA in Spanish, Wofford College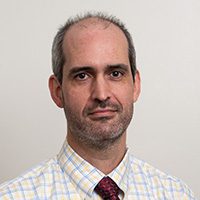 Dr. David Cross teaches both Spanish and Arabic languages and created the Arabic minor at CSU. In addition to earning degrees in Spanish, Arabic, and Comparative Literature in the United States, Dr. Cross has studied at the University of Salamanca in Spain, the University of the Americas in Ecuador, and Yarmouk University in Jordan. Outside of teaching, Dr. Cross's recent work experience includes Spanish medical interpretation, Arabic courtroom interpretation, evaluating AP Spanish exams for the Educational Testing Service, editing transliterations of Arabic texts, serving as a Quality Matters external reviewer for courses at other universities in the United States and Saudi Arabia, and working as an Arabic expert content selector for the National Foreign Language Center at the University of Maryland.
Your Purpose. Our Mission.
To me, "Your purpose, Our mission" means that our responsibility as Christian educators is to help students discover their purpose (God's purpose manifest in them) and to empower them to achieve it. As faculty, we use our talents to promote the Gospel and to help students become positive agents in society. To be effective, students need diverse knowledge and skills. They should also be cognizant and respectful of differences with others. Humility is an essential component of the educational process and of the Christian faith. Among other things, humility encompasses the ability to own one's mistakes and to learn from them, to accept correction when warranted, to self-evaluate, and to make changes as necessary. The process of becoming lasts for the duration of one's time as a student, but it is not limited to this. Whether it involves adjusting an experiment, revising a hypothesis, correcting a term paper, improving one's job skills, or reconfiguring one's worldview, our task as educators is to help students recognize the need for change, and to provide them the tools to make change happen.


Dr. David Cross
PUBLICATIONS & PRESENTATIONS

Article
"Disruption, Self-Reflection and Renovation: Revisiting the Arabic Influences in Don Quijote." "Dirāsāt" Human and Social Sciences Journal of the University of Jordan. July 2020.

Presentation
Cross, D. (2019). "The Arabic Influence on Spanish Literature and My Experiences Studying Spanish and Arabic." Presented at the Arab Thought Forum in Amman, Jordan in July 2019

Presentation
Cross, D. (2019). "Teaching Arabic as a Foreign Language." Presented at the University of Jordan in Amman, Jordan in March 2019.